Death is inevitable. It is the one fate every human shares. But that does not make it any easier to know, especially when you lose someone you love so much.

Halloween weekend 2011, I lost my grandfather. It was honestly the hardest thing. I sat at my grandparents house all day with family. We sat with my grandfather and told him how much we loved him and how much he meant to us. He left us around 6:20 p.m. I was not there when he died, even though I spent all day there. I left for 10 minutes to get some books to read, and in that time he left us. Even though I am mad for not being there and regret it, I would like to think that he left us while I was gone because he did not want me to see him die.

You see, my grandfather was a very thoughtful man who was loved by everyone and loved everyone to his fullest and because of that he lived life to the fullest.
Death is a crazy concept. It is something that never gets easier. But what makes it easier is knowing that you spent every year with your loved one with no regrets and had so many memories. These memories are the thing that will keep him/her alive.

My grandfather was a man who was surrounded by people he loved. He was a man who was loved by everyone who met him. He was a real Southern gentleman who did not die with his death, but lives on through his legacy- his family.
CNN Belief Blog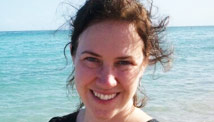 Editor's Note: Kerry Egan is a hospice chaplain in Massachusetts and the author of "Fumbling: A Pilgrimage Tale of Love, Grief, and Spiritual Renewal on the Camino de Santiago."
By Kerry Egan, Special to CNN
As a divinity school student, I had just started working as a student chaplain at a cancer hospital when my professor asked me about my work.  I was 26 years old and still learning what a chaplain did.
"I talk to the patients," I told him.
"You talk to patients?  And tell me, what do people who are sick and dying talk to the student chaplain about?" he asked.
I had never considered the question before.  "Well," I responded slowly, "Mostly we talk about their families."
"Do you talk about God?
"Umm, not usually."
View original post 1,042 more words